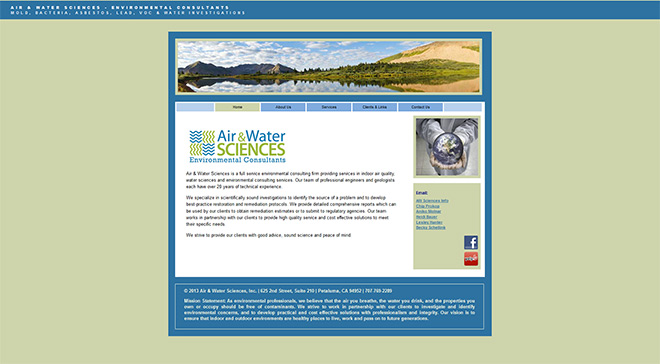 Mailing Address
Air & Water Sciences, Inc.
625 2nd Street, Suite 210
Petaluma, CA 94952
Office Phone
707-769-2289
Air & Water Sciences
Air & Water Sciences is a full service environmental consulting firm providing services in indoor air quality, water sciences and environmental consulting services. Our team of professional engineers and geologists each have over 20 years of technical experience.
We specialize in scientifically sound investigations to identify the source of a problem and to develop best-practice restoration and remediation protocols. We provide detailed comprehensive reports which can be used by our clients to obtain remediation estimates or to submit to regulatory agencies. Our team works in partnership with our clients to provide high quality service and cost effective solutions to meet their specific needs.
We strive to provide our clients with good advice, sound science and peace of mind.