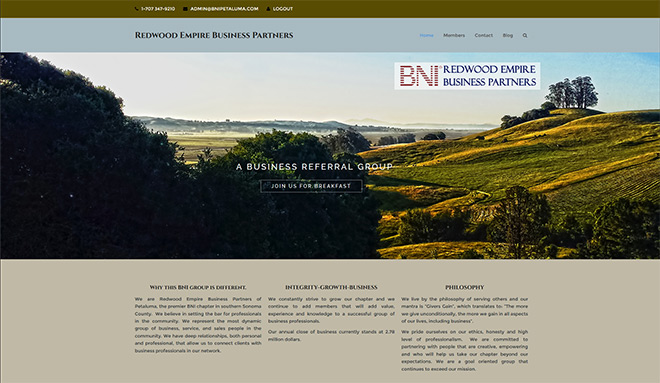 Join Us at Breakfast for the View
Stay for the Business!
Redwood Empire Business Partners
We are Redwood Empire Business Partners of Petaluma, the premier BNI chapter in southern Sonoma County.  We believe in setting the bar for professionals in the community. We represent the most dynamic group of business, service, and sales people in the community. We have deep relationships, both personal and professional, that allow us to connect clients with business professionals in our network.
We constantly strive to grow our chapter and we continue to add members that will add value, experience and knowledge to a successful group of business professionals.
Our annual close of business currently stands at 3.69 million dollars.
We live by the philosophy of serving others and our mantra is "Givers Gain", which translates to: "The more we give unconditionally, the more we gain in all aspects of our lives, including business".
We pride ourselves on our ethics, honesty and high level of professionalism.  We are committed to partnering with people that are creative, empowering and who will help us take our chapter beyond our expectations. We are a goal oriented group that continues to exceed our mission.