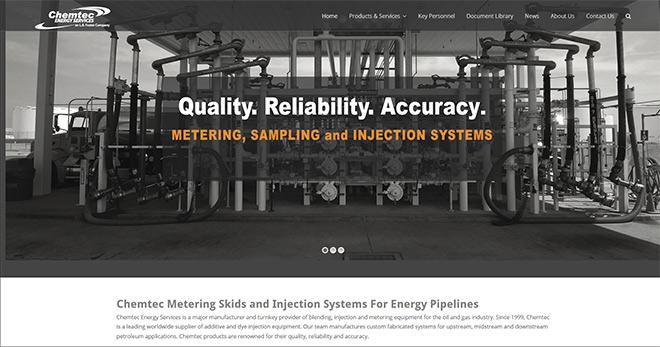 Chemtec Energy Services LLC
Corporate Headquarters & Sales
11745 Cude Cemetery Road
Willis, Texas 77318 U.S.A.
Phone: +1 936 856 1704
Fax: +1 936 856 1669
Sales: sales@chemtecenergy.com
Chemtec Metering Skids and Injection Systems For Energy Pipelines
Chemtec Energy Services is a major manufacturer and turnkey provider of blending, injection and metering equipment for the oil and gas industry. Since 1999, Chemtec is a leading worldwide supplier of additive and dye injection equipment. Our team manufactures custom fabricated systems for upstream, midstream and downstream petroleum applications. Chemtec products are renowned for their quality, reliability and accuracy.
LACT SKIDS
Chemtec LACT skids are prefabricated, skid-mounted assemblies used at attended or unattended leases (LACT) and loading\unloading (ACT) points to determine the quantity and quality of liquid hydrocarbons.The purpose of LACT skids is to ensure accurate hydrocarbon measurement between owners and their customers.
METERING SYSTEMS
Our metering systems are fabricated and assembled at Chemtec's Willis, Texas facility. All welding is performed by certified welders and then tested per customer requirements. To further ensure weld integrity, all piping is also subjected to hydrostatic testing.
LOADING & OFF LOADING SKIDS
Chemtec Energy Services shop-fabricated skids are an ideal way to control quality, ensure timely delivery and minimize cost. From initial product design through onsite startup/commissioning, Chemtec offers the industry's most complete package.
Collaberation: Ninetimes, an Advertising Company