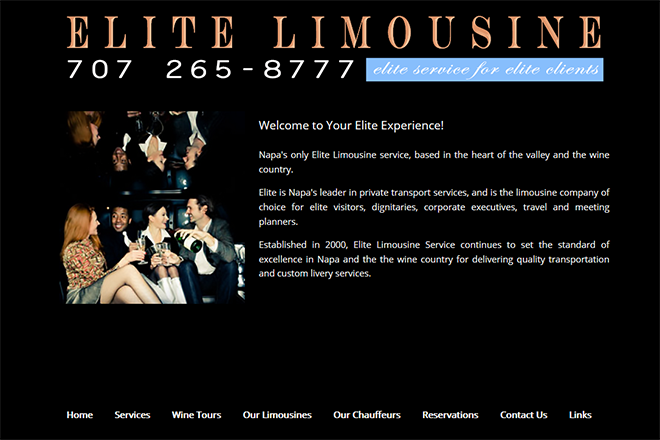 BASED IN THE HEART OF THE NAPA VALLEY.
BEST EQUIPMENT • BEST SERVICE
For special requests please email us or call us at: (707) 265-8777.
Welcome to Your Elite Experience!
Napa's only Elite Limousine service, based in the heart of the valley and the wine country.
Elite is Napa's leader in private transport services, and is the limousine company of choice for elite visitors, dignitaries, corporate executives, travel and meeting planners.
Established in 2000, Elite Limousine Service continues to set the standard of excellence in Napa and the the wine country for delivering quality transportation and custom livery services.
Enjoy the Elite Experience with confidence and security as you board your private limousine, executive town car or SUV. Elite manages and maintains the newest fleet of vehicles on Napa's roadways.
Our Elite Team of Chauffeurs, Escorts, and Customer Care Specialists are the industry's finest! Expect only the best in reliability, courtesy, and local historic and cultural knowledge from our Elite Staff.