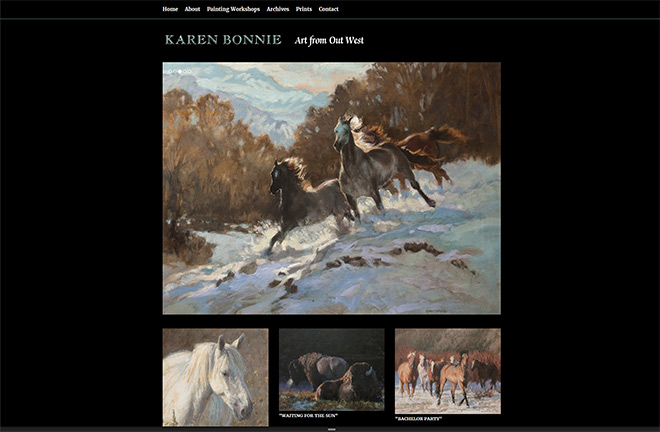 3180 County Rd 13
Del Norte, Colorado 81132
719-657-0286
Karen Bonnie - Art from Out West
Born in Wisconsin, Karen Bonnie came to the charming Colorado town of Del Norte, Colorado in her late '40's. Surrounded by the imposing San Juan and Sangre de Cristo Mountains, her passion for horses, western culture and the natural world are her daily inspiration and home for her soul. When weather allows, she hikes and rides daily to renew herself and stay close to Nature's humbling beauty and power, and often paints plein air with her horse hobbled nearby, or paints one of her own horses in the corral to better understand equine form.
Karen drew with pencils from early childhood, always of her passion, horses, until adulthood when she became a commercial photographer and, later, a graphic designer. It wasn't until she was in her late '40's that she tried oil painting and immediately fell in love with the medium. At the time, she lived in Abiquiu, New Mexico where she had a gallery/gift shop where she sold award winning deerskin clothing and an occasional drawing. There, she met and was inspired and encouraged by a number of fine artists, and thus began a new career, one that she finds supremely fulfilling and, frankly, fun. "In Colorado I found myself plunked down amongst ranches that are still run in pretty traditional ways. They have to be, because of the terrain. Thanks to some cowgirls who allowed me along on their range riding, I learned what I needed to do to stay out of the way and keep up while they did their cow work. Meanwhile, in training my own horses to negotiate mountain terrain, stand still while I photograph, and pitch in where needed, I have experienced the uniquely close bond that cowboys have with their dogs and horses. Now, I am grateful to say that I ride with a number of ranch people while they're working. It is an honor to be invited, and I am thankful because the cowboy life, with all its  traditions, are what I am passionate to portray, and a painter must experience and observe it to understand it. Cowboying is probably the ultimate in outdoor jobs and, with all the beauty there are also wrecks and havoc, the worst of what weather has to offer, and fantastic tales of survival-by-a-hair."
Having trained and competed on dressage horses on a local level for 20 years in the Midwest, Karen has not been without horses in her life since she was 20. She currently rides her hardy and sensible Quarter Horses on the ranches and in the surrounding mountains, and has recently acquired a turn-of-the-century surrey to use in the many local parades. One area of interest is in Reining and Cutting Horses, and that has come about by experiencing it firsthand, when she is occasionally invited to join in on a gather when it is time to sort.
Karen is working primarily with oil bars on a solid textured panel. Oil bars are a traditional method of using oil paint mixed with wax, giving a more substantial feel to the medium. "Colors are mixed on the painting rather than on the palette, and it frees me up a bit and leaves traces of the process there for the viewer to see and experience. I love the way the texture of the panel picks up paint in a random fashion, giving the painting life and realism without being fussy." Karen often paints her subjects in low light as at the end or beginning of the day, symbolizing inner peace and the promise of a new beginning.