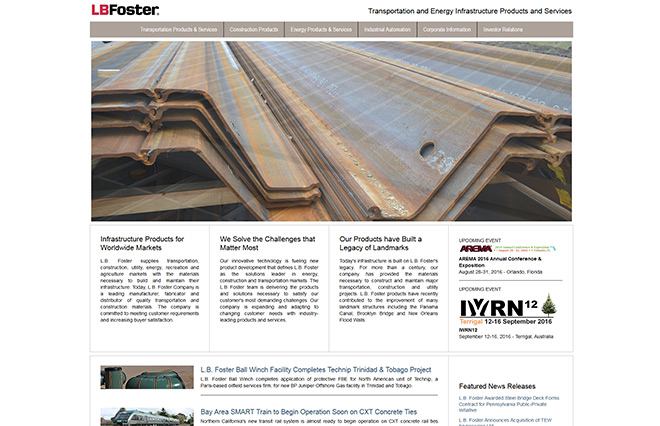 Corporate Address
415 Holiday Drive
Pittsburgh, PA 15220
800-255-4500
Transportation and Energy Infrastructure Products and Services
Infrastructure Products for Worldwide Markets
L.B. Foster supplies transportation, construction, utility, energy, recreation and agriculture markets with the materials necessary to build and maintain their infrastructure. Today, L.B. Foster Company is a leading manufacturer, fabricator and distributor of quality transportation and construction materials. The company is committed to meeting customer requirements and increasing buyer satisfaction.
We Solve the Challenges that Matter Most
Our innovative technology is fueling new product development that defines L.B. Foster as the solutions leader in energy, construction and transportation markets. The L.B Foster team is delivering the products and solutions necessary to satisfy our customer's most demanding challenges. Our company is expanding and adapting to changing customer needs with industry-leading products and services.
Our Products have Built a Legacy of Landmarks
Today's infrastructure is built on L.B. Foster's legacy. For more than a century, our company has provided the materials necessary to construct and maintain major transportation, construction and utility projects. L.B. Foster products have recently contributed to the improvement of many landmark structures including the Panama Canal, Brooklyn Bridge and New Orleans Flood Walls.
Collaberation: Ninetimes, an Advertising Company