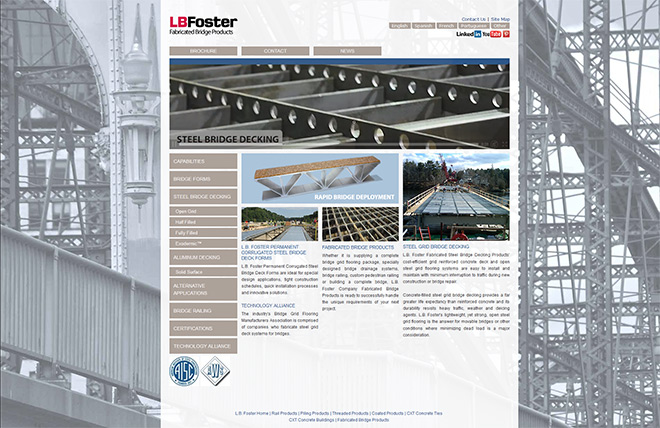 Product Office / Corporate Headquarters
415 Holiday Drive
Pittsburgh, PA 15220
Chris Davis, General Manager, Sales & Marketing: cdavis@lbfoster.com
P# 412.928.3548
M# 412.527.1340
Mike Riley, Marketing Manager: mriley@lbfoster.com
P# 412.928.3452
M# 724.355.1878
L.B. FOSTER FABRICATED BRIDGE PRODUCTS
FABRICATED BRIDGE PRODUCTS
Whether it is supplying a complete bridge grid flooring package, specially designed bridge drainage systems, bridge railing, custom pedestrian railing or building a complete bridge, L.B. Foster Company Fabricated Bridge Products is ready to successfully handle the unique requirements of your next project.or consideration.
STEEL GRID BRIDGE DECKING
L.B. Foster Fabricated Steel Bridge Decking Products' cost-efficient grid reinforced concrete deck and open steel grid flooring systems are easy to install and maintain with minimum interruption to traffic during new construction or bridge repair.
Concrete-filled steel grid bridge decking provides a far greater life expectancy than reinforced concrete and its durability resists heavy traffic, weather and deicing agents. L.B. Foster's lightweight, yet strong, open steel grid flooring is the answer for movable bridges or other conditions where minimizing dead load is a major consideration.
L.B. FOSTER PERMANENT CORRUGATED STEEL BRIDGE DECK FORMS
L.B. Foster Permanent Corrugated Steel Bridge Deck Forms are ideal for special design applications, tight construction schedules, quick installation processes and innovative solutions.
TECHNOLOGY ALLIANCE
The industry's Bridge Grid Flooring Manufacturers Association is comprised of companies who fabricate steel grid deck systems for bridges.
Collaberation: Ninetimes, an Advertising Company