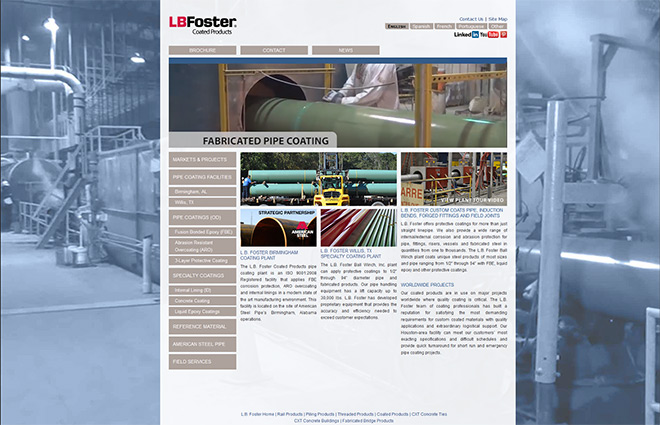 L.B. FOSTER CUSTOM COATS PIPE, INDUCTION BENDS, FORGED FITTINGS & FIELD JOINTS
L.B. Foster offers protective coatings for more than just straight linepipe. We also provide a wide range of internal/external corrosion and abrasion protection for pipe, fittings, risers and fabricated steel in quantities from one to thousands. The L.B. Foster Ball Winch, Inc. plant coats unique steel products of most sizes and pipe ranging from 1/2" through 94" with FBE, liquid epoxy and other protective
coatings.
Our coated products are in use on major projects worldwide where quality coating is critical. The L.B. Foster team of coating professionals has  built  a  reputation  for  satisfying  the  most  demanding  requirements  for  custom  coated  materials  with  quality  applications  and extraordinary logistical support. Our Houston-area facility can meet our customers' most exacting specifications and difficult schedules and provide quick turnaround for short run and emergency pipe coating projects.
L.B. Foster applies a wide range of protective coatings in a unique manufacturing environment that maintains the highest level of quality and employee safety. All L.B. Foster Ball Winch coating material and workmanship exceeds API standards
Collaberation: Ninetimes, an Advertising Company