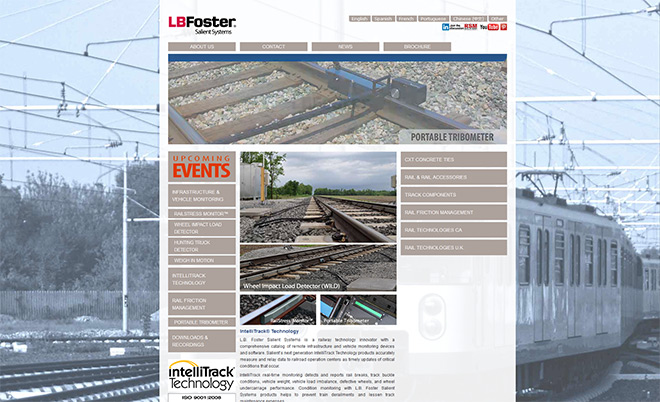 L.B. FOSTER SALIENT SYSTEMS - Real Time Failure Mode Detection for the Rail Industry.
L.B. Foster's Salient Systems is an advanced technology product  and  service  provider  to  the  worldwide  rail  transportation  industry.  Salient's  precision  monitoring  equipment administers concurrent data and dispatches critical  information  to  railroads  regarding  their  track  and rolling stock performance.
Our  innovative  IntelliTrack®  Technology  incorporates  wayside and rail-mounted detectors to locate defective track and monitor the health of individual rail vehicles. Salient's  integrated  system  of  software  and  hardware
utilizes  new  technologies  and  the  power  of  timely  information   to   maximize   equipment   reliability   and   improve operational safety.
Real-time monitoring of rail infrastructure, maintenance and  rolling  stock  is  critical  for  today's  transit,  mainline  and industrial railroads. L.B. Foster is committed to the new  product  development  necessary  to  maintain  the technology  benchmark  for  reliability,  safety  and  value  in the rail industry.
Collaberation: Ninetimes, an Advertising Company