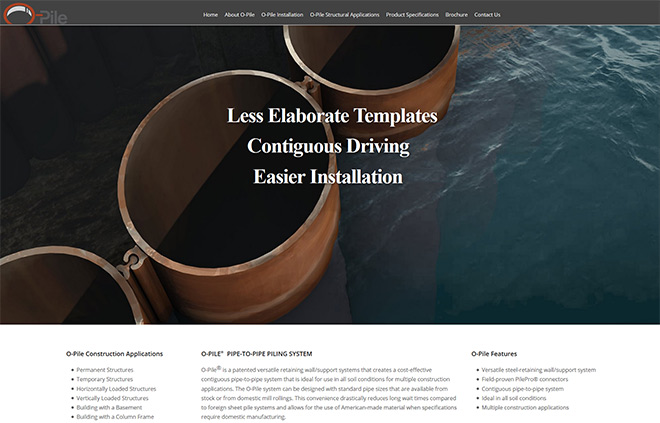 O-PILE® PIPE-TO-PIPE PILING SYSTEM
O-Pile® is a patented versatile retaining wall/support systems that creates a cost-effective contiguous pipe-to-pipe system that is ideal for use in all soil conditions for multiple construction applications. The O-Pile system can be designed with standard pipe sizes that are available from stock or from domestic mill rollings. This convenience drastically reduces long wait times compared to foreign sheet pile systems and allows for the use of American-made material when specifications require domestic manufacturing.
The O-Pile Pipe Sheet pile system is an alternative to heavy Z-sheet pile, pipe/beam SSP combi-walls, slurry, secant, contiguous concrete walls and other conventional concrete construction designs. This unique system arrives at the jobsite ready to be driven, featuring the patented and contractor preferred WOM/WOF ball and socket connectors.
For corrosion protection, O-Pile can be delivered with protective coatings applied, or the sacrificial steel method can be utilized where-by only the thickness of the upper section of a pipe is increased, helping to meet durability requirements and giving the engineer a quantifiable lifespan.
All O-Pile systems are available with WADIT® Interlock Sealant. A purpose-built and globally-proven piling interlock sealant, WADIT is an environmentally friendly sealant that delivers robust water-stopping protection. This unique interlock sealant is pre-applied in the WOF interlock chamber before delivery to the job site.
Collaberation: Ninetimes, an Advertising Company