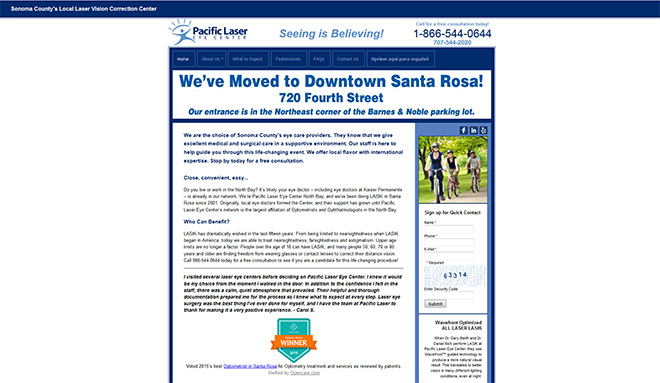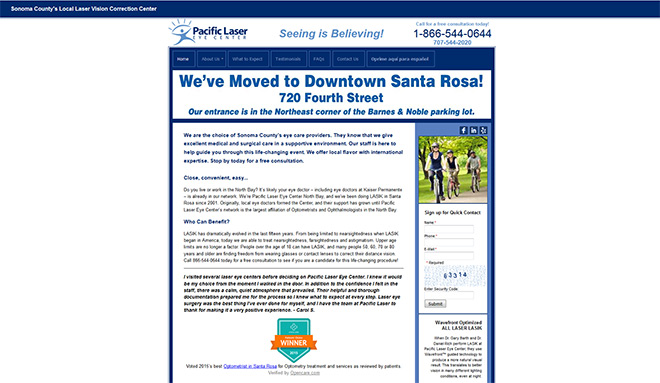 Pacific Laser Eye Center
We are the choice of Sonoma County's eye care providers. They know that we give excellent medical and surgical care in a supportive environment. Our staff is here to help guide you through this life-changing event. We offer local flavor with international expertise. Stop by today for a free consultation.
Close, convenient, easy…
Do you live or work in the North Bay? It's likely your eye doctor – including eye doctors at Kaiser Permanente – is already in our network. We're Pacific Laser Eye Center North Bay, and we've been doing LASIK in Santa Rosa since 2001. Originally, local eye doctors formed the Center, and their support has grown until Pacific Laser Eye Center's network is the largest affiliation of Optometrists and Ophthalmologists in the North Bay.
Who Can Benefit?
LASIK has dramatically evolved in the last fifteen years. From being limited to nearsightedness when LASIK began in America, today we are able to treat nearsightedness, farsightedness and astigmatism. Upper age limits are no longer a factor. People over the age of 18 can have LASIK, and many people 50, 60, 70 or 80 years and older are finding freedom from wearing glasses or contact lenses to correct their distance vision. Call 866-544-0644 today for a free consultation to see if you are a candidate for this life-changing procedure!