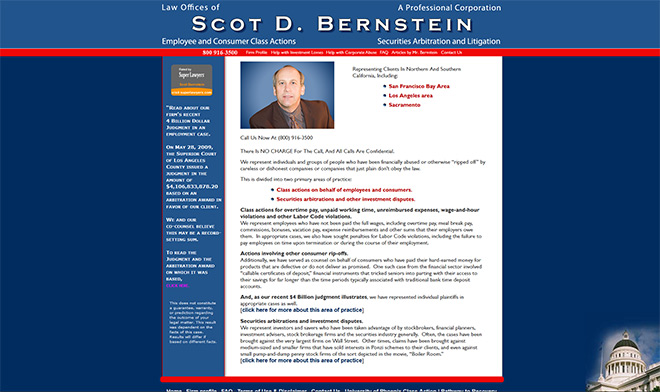 Representing Clients in Northern and Southern California, including:
San Francisco Bay Area
Los Angeles area
Sacramento
Call us now at (800) 916-3500
Law Offices of Scot D. Bernstein
There is NO CHARGE for the call, and all calls are confidential.
We represent individuals and groups of people who have been financially abused or otherwise "ripped off" by careless or dishonest companies or companies that just plain don't obey the law.
This is divided into two primary areas of practice:
Class actions on behalf of employees and consumers.
Securities arbitrations and other investment disputes.
Class actions for overtime pay, unpaid working time, unreimbursed expenses, wage-and-hour violations and other Labor Code violations.
We represent employees who have not been paid the full wages, including overtime pay, meal break pay, commissions, bonuses, vacation pay, expense reimbursements and other sums that their employers owe them.  In appropriate cases, we also have sought penalties for Labor Code violations, including the failure to pay employees on time upon termination or during the course of their employment.
Actions involving other consumer rip-offs.
Additionally, we have served as counsel on behalf of consumers who have paid their hard-earned money for products that are defective or do not deliver as promised.  One such case from the financial sector involved "callable certificates of deposit," financial instruments that tricked seniors into parting with their access to their savings for far longer than the time periods typically associated with traditional bank time deposit accounts.
And, as our recent $4 Billion judgment illustrates, we have represented individual plaintiffs in appropriate cases as well.
Securities arbitrations and investment disputes.
We represent investors and savers who have been taken advantage of by stockbrokers, financial planners, investment advisers, stock brokerage firms and the securities industry generally.  Often, the cases have been brought against the very largest firms on Wall Street.  Other times, claims have been brought against medium-sized and smaller firms that have sold interests in Ponzi schemes to their clients, and even against small pump-and-dump penny stock firms of the sort depicted in the movie, "Boiler Room."